Anne Jeschke , Pharmacy intern
"I wasn't aware of what actually goes into the production of medicinal products. "
---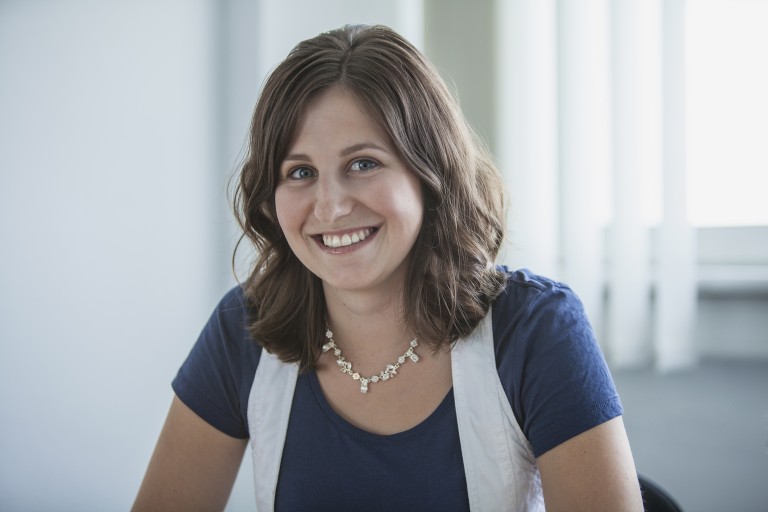 Ms. Jeschke, you are a pharmacy intern and spending half of your practical year at BERLIN-CHEMIE. Why? You could have, for example, also spent the entire year at a pharmacy.
Because I'm still not really sure what I want to do after the third state licensing examination. I know that I want to have contact with people during my work, whether it's at a pharmacy or company. That's why I wanted to get to know something else besides a pharmacy. You never again have the possibility to get to know an area as easily as during this internship. I wanted to take advantage of this and have the feeling that I have learnt quite a bite.
You work at which department at BERLIN-CHEMIE?
I work at the Regulatory Affairs Department. We manage all of the marketing authorisations for products approved in Germany. But this also includes marketing authorisations in the EU. We act as the point of contact for the German regulatory authority, the Federal Institute for Drugs and Medical Devices, for the often long procedures for new registrations and renewals. If for example something about a product changes, the changes are first assessed from a regulatory standpoint and compiled by different departments.
What was the application process for the internship actually like?
All intern positions for the individual departments are advertised on BERLIN-CHEMIE's website. You can apply there. Originally, I'd chosen another position that however had already been assigned. Then somebody from BERLIN-CHEMIE called me and said that there were yet other positions still available, and I thought the one at Regulatory Affairs looked very interesting.
What are the other departments you have contact with during your work?
We interact with numerous departments. For example, I work with colleagues responsible for the quality documentation. In that documentation, everything is recorded that has to do with the quality of a drug, like the stability data and information on how it's manufactured and tested. The colleagues have their offices on the same floor. If we have questions, we can always just go by. I also work with the Medicine and Research Department, which is responsible for the drafting of product information texts. Those are, for example, package leaflets for drugs. Additionally, we have to do with Marketing to establish a regulatory strategy and with International Division, as the international marketing authorisations are often based on the regulatory status in Germany.
Overall you'll be spending six months at BERLIN-CHEMIE. Will you change departments again during this time?
No, I'll stay at the same department. But there are two-hour events at BERLIN-CHEMIE for pharmacy interns during which we visit other departments and thus get to know the most important ones. We for example have already visited Quality Control. In addition, I've also received tips from my supervisor on which colleagues I can talk to during my internship to get to know other departments.
How quickly were you able to really start working at the department?
It went pretty fast. The first two days my colleagues explained things to me, on the third day I learnt how the authority is notified and then I had my own tasks on the table. Of course, my supervisor goes over my work at the end, but I learnt a lot by just being able to try things myself.
How did you actually experience the shift from theory in your studies to practice at BERLIN-CHEMIE?
At the beginning it was definitely specific and didn't have much to do with what I'd learnt at the university. Everyone talks in abbreviations and it was all just Greek to me. But after a few days, I slowly began to understand what the abbreviations mean. During my studies, I couldn't even imagine what a pharmaceutical company does in detail. I thought that the company produces and controls drugs and then brings them to market. But I couldn't even picture how much really stands behind this and how many departments there are. In general, the daily routine is varied and demanding. That's why it's never really possible to not make any mistakes. Which initially isn't really bad thing. That's why I always discuss my work with my supervisor. We double-check our work so that everything we submit to the authorities is free from errors.
Who do you ask questions when you don't know how to proceed?
Usually I ask my supervisor. She sits across from me and can be addressed at any time. And when she is in a meeting, I can go to the next office and everyone takes time out to help. There is always somebody available.